Updates and news <FAQs from the investor meetings as of February 2022 >
| | |
| --- | --- |
| 제목 | <FAQs from the investor meetings as of February 2022 > |
| 참고 | F A Q |
<FAQs from the investor meetings as of February 2022 >
We (or "PharmAbcine") prepared this FAQ (Frequently Asked Questions) to provide answers to questions frequently raised during investor meetings in February 2022. We recommend viewers to refer to the previous FAQs as this issue only addresses newly raised questions.
Q1. What is the progress on the Phase Ib olinvacimab and pembrolizumab combo trials in mTNBC (metastatic Triple-Negative Breast Cancer) and rGBM (recurrent Glioblastoma) in Australia?
We began Phase Ib combo trial for mTNBC patients in late 2018 to evaluate the clinical safety and efficacy of olinvacimab and pembrolizumab combo therapy. In February 2022, we publicly announced the LPLV (Last Patient Last Visit) and officially finished the combo therapy for all patients. We currently have two patients receiving olinvacimab monotherapy as compassionate and are in stable condition. One is the last patient, and the other patient is the one who has been receiving monotherapy since August 2021.
As for the Phase Ib rGBM combo trial that began in late 2018, there is one patient receiving olinvacimab monotherapy as compassionate use. This patient was the last patient to be treated with the last cycle of combo therapy in October 2021 and has been receiving the monotherapy since then. This patient is also in stable condition.
The Company decided to supply olinvacimab to these patient for further treatments as compassionate use as per requests from the patients, their families, caregivers, and the PIs. Helping cancer patients is core to our mission, and PharmAbcine will gladly supply olinvacimab to help improve patients' well-being.
We expect the final reports of both studies to be available by 3Q22.
Q2. What is the unique characteristic of PMC-309 compared to the existing therapeutic antibodies?
The uniqueness of PMC-309, one of our first immuno-oncology candidates, is its mode of action that indirectly activates T cells.
Unlike many existing molecules that target the immune checkpoint receptors on T cells and directly activate them, PMC-309 targets VISTA, a receptor that is mainly expressed on immunosuppressive cells like MDSC (Myeloid-Derived Suppressor Cells) and Tregs (regulatory T cells). By doing so, PMC-309 blocks the VISTA pathways on immunosuppressive cells and allows T cells to remain active for anti-tumor effects.
In preclinical studies, PMC-309 has shown to specifically bind to myeloid-derived cells, like MDSCs and does not bind to T cells. In addition, PMC-309 not only demonstrated encouraging anti-tumor effects when used in mono, but also showed significantly improved rate of tumor reduction when used in combo with an anti-PD-1 drug.
This distinct mechanism that does not overlap with other drugs makes PMC-309 a potent candidate that can be used in both mono and combo in immuno-oncology area where the existing antibodies show low or no response rates.
Refer to the image below to better understand the mode of action.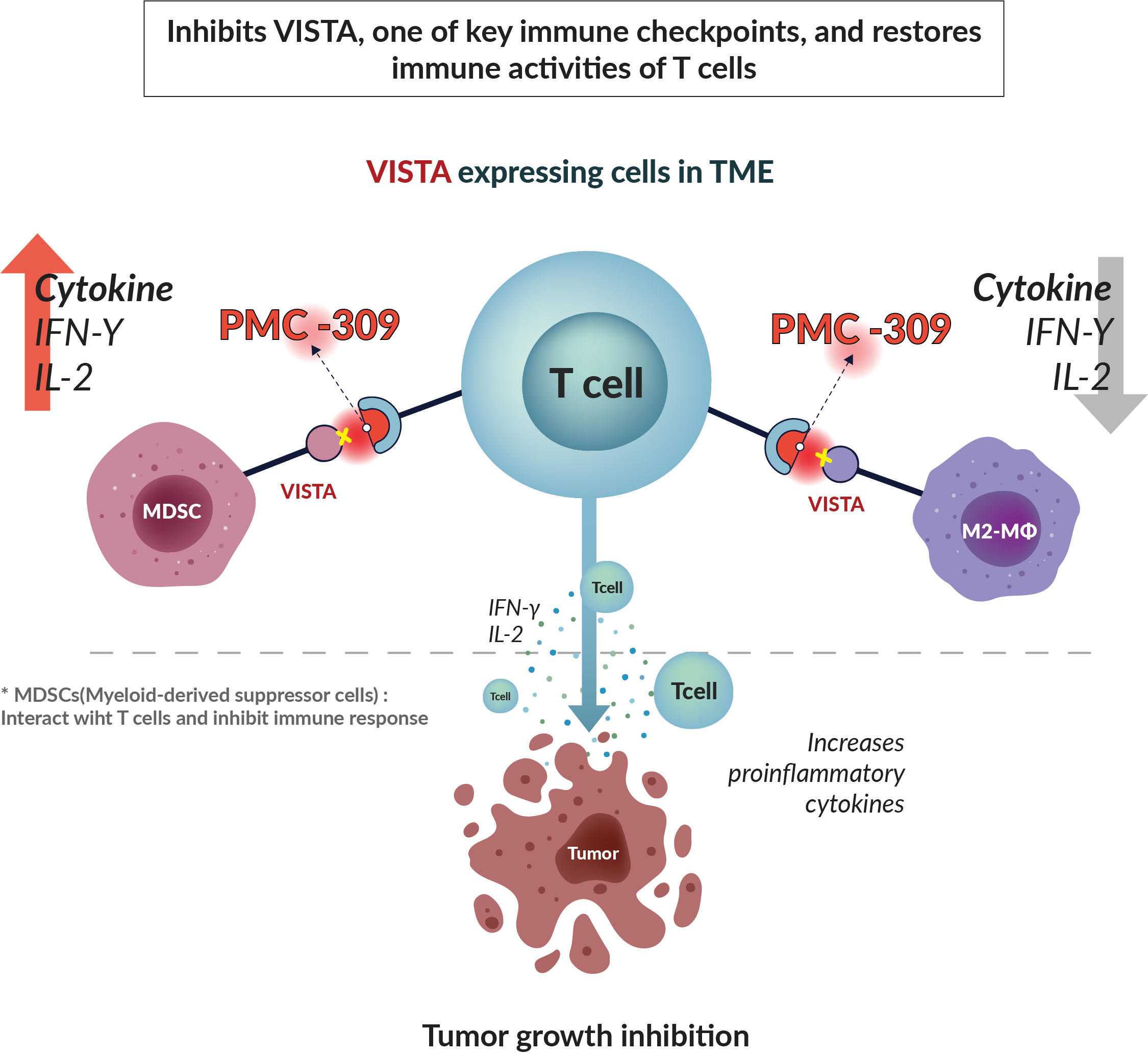 Q3. Why is olinvacimab called "TTAC-0001" while the other molecules from the Company uniformly start with "PMC"?
Unlike other molecules (PMC-403, PMC-309, and PMC-402) that were discovered at PharmAbcine and named after the Company's abbreviation (PMC), olinvacimab was discovered and named by Dr. Jin-San Yoo, our CEO, and his colleagues while they were conducting a next-generation therapeutic antibody discovery project at TTAC (The Therapeutic Antibody Center) at KRIBB (Korea Research Institute of Bioscience and Biotechnology). In 2008, Dr. Yoo established PharmAbcine as a spin-off from KRIBB with olinvacimab as the lead pipeline. This is why olinvacimab is also known as TTAC-0001 instead of being named with PMC