[Press Release]PharmAbcine Signs MoU with FutureChem to Explore Possibilities of Developing Novel Radiopharmaceuticals
| | |
| --- | --- |
| Title | PharmAbcine Signs MoU with FutureChem to Explore Possibilities of Developing Novel Radiopharmaceuticals |
| Category | Press Release |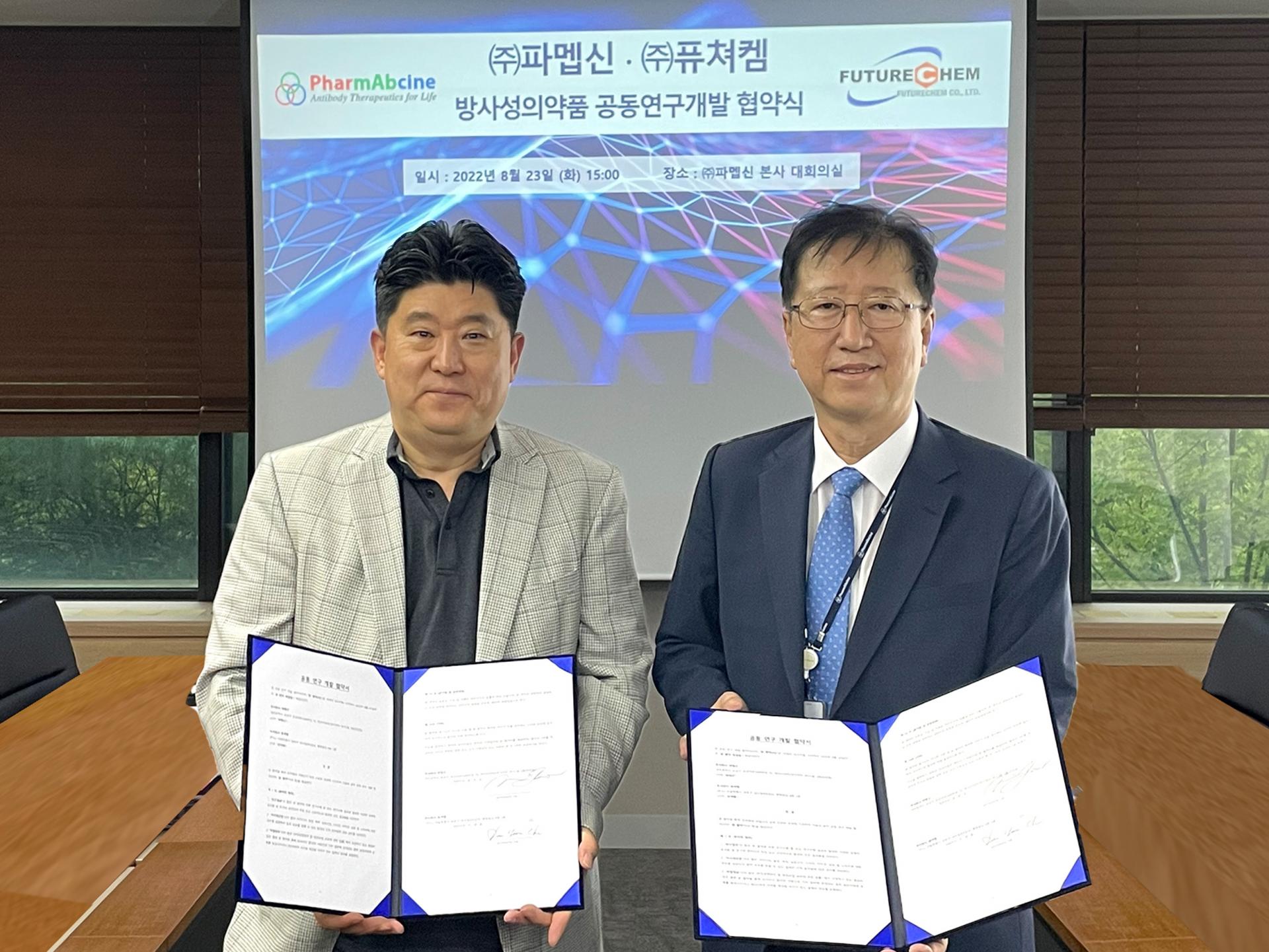 PharmAbcine Signs MoU with FutureChem to Explore Possibilities of Developing Novel Radiopharmaceuticals
PharmAbcine Inc. (KOSDAQ: 208340ks), a clinical-stage biotech company focusing on the development of next-generation antibody therapeutics, announced today that it signed an MoU (Memorandum of Understanding) with FutureChem Co., Ltd. ("FutureChem") (KOSDAQ: 220100ks), a leading Korean radiopharmaceutical company developing innovative medicines and imaging analysis technology for targeting and treating cancer and neurodegenerative diseases.
Under the agreement, both companies will conduct collaborative research utilizing antibody assets discovered from PharmAbcine's proprietary fully human antibody library called "HuPhage" and FutureChem's development platform for innovative radiopharmaceuticals.
Radiopharmaceuticals are radioactive agents that are utilized for the diagnosis of infection, vessel-related diseases, bone/bone marrow diseases, tumors, and other diseases in heart, lung, kidney, liver etc. Using larger amount of radiation, some radiopharmaceuticals can be used to treat cancers by destroying the affected tissues.
"In addition to previous research collaboration agreements with other notable biotech companies that specialize in mRNA therapeutics, this partnership will provide other new possibilities to expand our R&D scope from the standard antibody therapeutics to novel diagnostics and treatment options, which are needed direly in the market," said Dr. Jin-San Yoo, CEO of PharmAbcine. "We look forward to collaborating with FutureChem, one of key global leaders of radiopharmaceuticals development, to produce critical achievements in the future."
About FutureChem Co., Ltd

FutureChem was founded in 1999 and is headquartered in Seoul, South Korea. The company offers R&D, production and distribution of innovative radiopharmaceuticals for diagnosing cancers, and Parkinson's and Alzheimer's diseases as well as treating cancers; and automation modules and disposable goods, such as disposable cassettes, reagent kits, and radio-caps. It also provides peptide-based radiopharmaceuticals for radio-metal chelation and click reaction; linkers for bio-conjugation using copper-free/mediated click reaction; fluorinated compounds; and custom synthesis services including Good Manufacturing Practice (GMP)-produced drugs for clinical trials, as well as develops and produces PET and single photon emission computed tomography (SPECT) precursors and chemicals for radiopharmaceuticals.
About PharmAbcine Inc.
PharmAbcine is a clinical-stage biotech company focusing on the development of fully human antibody therapeutics to treat neovascular disorders, tumors, and other medically unmet diseases. It provides therapeutic antibodies for a wide spectrum of indications from oncology, immuno-oncology, ophthalmology, pulmonology, to renal pathology.
PharmAbcine has its own HuPhage library and innovative selection system. PharmAbcine's advanced 3G expression system accommodates high levels of antibody production and steady reproducibility. With these cutting-edge technology platforms, it provides state-of-the art antibody generation services.
PharmAbcine also has unique knowhow in the area of the antibody production, early drug development, and clinical development.
For additional information about PharmAbcine, visit http://www.pharmabcine.com or follow us on Youtube and Linkedin.
For licensing deals, co-development, and collaboration in research or antibody discovery inquiries, please contact:
Business Development Team
E-mail: bd@pharmabcine.com
Office line: +82 70 4279 5100
For investor relations and public relations inquiries, please contact:
IR/PR Team
Sungjun Park, Associate
E-mail: sungjun.park@pharmabcine.com
Office line: +82 70 4270 2637